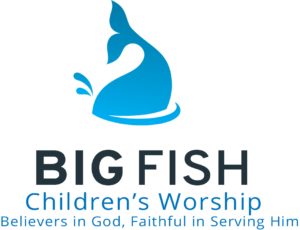 Sunday morning during worship services
Every Sunday following Coins for Christ and preceding the sermon, all children ages three years to the fifth grade are released from the main service.
They are dismissed to the BIG FISH children's worship and meet ing the Deep Blue Sea.
Here they take part in a high energy children's worship that in involves singing, games, a lesson, and a craft.
The nursery is staffed for the younger children so that age appropriate activities are available to everyone.
Watch as our children eagerly race off to BIG FISH every Sunday. they can hardly wait!